Product Development
Our marketing experience stems from many years of nurturing our own product and brands. We continue to develop niche items to fill interesting opportunities we identify. Here are examples of products we worked with in the past. Many of these products are still in production, and most leverage overseas OEM manufacturing.
While our focus is marketing your great products, we can help with design and overseas production if your great idea needs these services.
Apparel Manufacturing
Since 1995 we have designed and marketed several brands of clothing for men and women. Our marketing plan leveraged underserved niche markets. Tracking customer website traffic led to several opportunities that continue to be productive to this day. In addition to offering marketing services to unique apparel companies, we can extend experienced overseas manufacturing assistance.
---
Micro Tools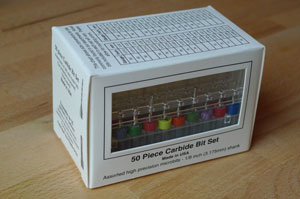 We set up the production and marketing of a complete line of micro tools marketed to craftsmen, electronic technicians and hobbyists. One of our best selling items was a line of precision solid carbide bits that we designed for this market. This item was in production for fifteen years, and distributed through tool companies in 12 countries.
---
Small Kit Buildings and Pergolas
We discovered an interesting design for small cabins and saunas that is popular in the Scandinavian countries. The buildings are constructed using a square log technique that was sold as a DIY kit building. We established established Cascade Chalet to adapt it to the Northwest market and developed an instruction guide to make assembly possible for novice homeowners. The product line expanded to garden pergolas and timberframe style teak buildings made from recycled timbers from old ships and buildings. Production was contracted to factories in Estonia and Indonesia. We provide detailed designs and onsite production quality control. We have also produced a line of garden pergolas that sold well in Seattle. Marketing for this item focused on local customers due to the size. Personal assistance and immediate online chat were keys to this product's runaway success.
---
Teak Furniture and Other Wood Items
We have been working in Indonesia for over 12 years and have excellent connections in the wood and furniture industry. We can source from stock, or produce items to your design. We can also produce architectural details such as doors and flooring. Marketing for Cascade Chalet focused on local customers.
---
Home Textiles
We introduced a line of table linens and quilts that proved to be a perfect fit for channel marketing on Amazon and eBay, in addition to several smaller marketplaces. We developed a software system that tied in with Amazon and other supporting services to manage pricing, images and inventory.
---
Cookware
This is an interesting product line of cookware made with heavy cast iron or solid granite. In the past, we have also created cabinet hardware using bronze. Marketing this product line required cultivation of customer testimonials and tie ins with several cooking blogs.
---
Stonework
This stonework for the garden was sourced from suppliers in Indonesia. In addition to sourcing stock designs, we commissioned many pieces of our own design for specific architectural contracts. This required a local marketing effort which targeted designers and architects.